Our core values, your comfort care team & neighborhoods we love.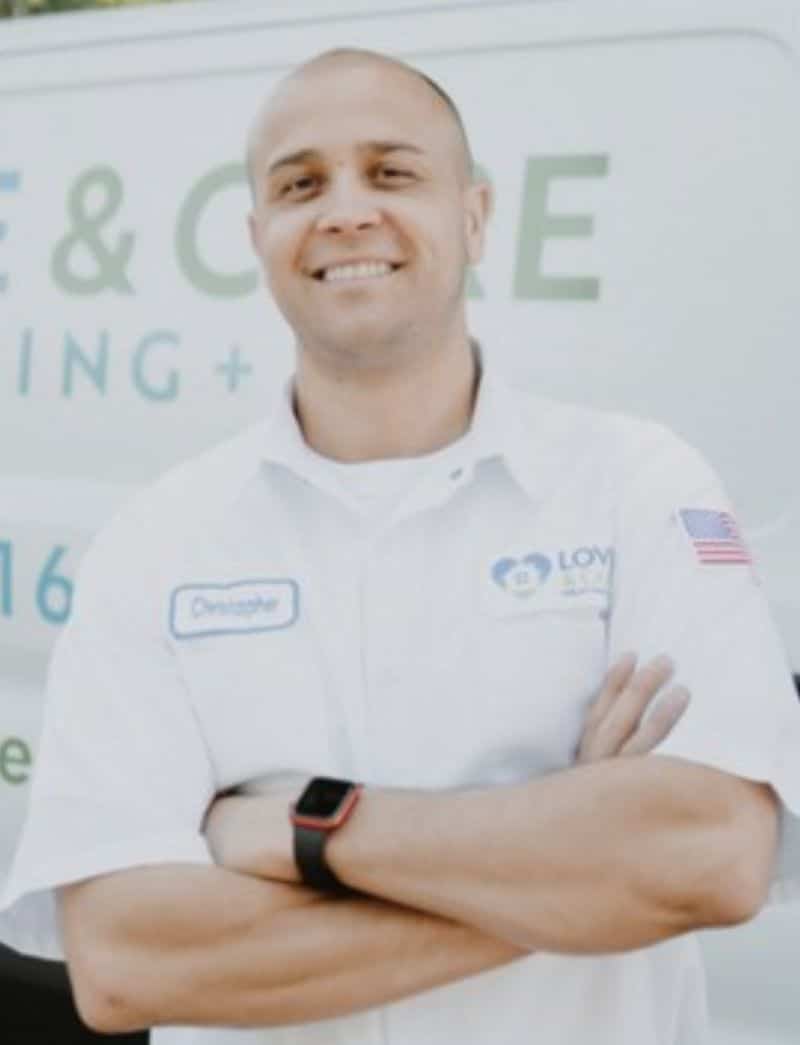 MEET THE OWNER, CHRISTOPHER SHAW
Honesty, Trust, Integrity & Accountability.
Christopher Shaw, the owner and founder of Love and Care Heating and Air, has been in the residential heating and air industry since 1997. Chris was hired as an installer right out of high school at the age of 17 and worked for two of the local heavyweights, learning–growing, and teaching–all the while dreaming and thinking about how he would run his own business when the time came.
Chris's expertise in the industry is well-documented and recognized. Chris's customers love him and trust him. Chris is able to accurately identify system challenges, explain them clearly and concisely to clients, and present solutions that meet the needs of the situation, all while being mindful of long-term goals, budgets, and unique requirements.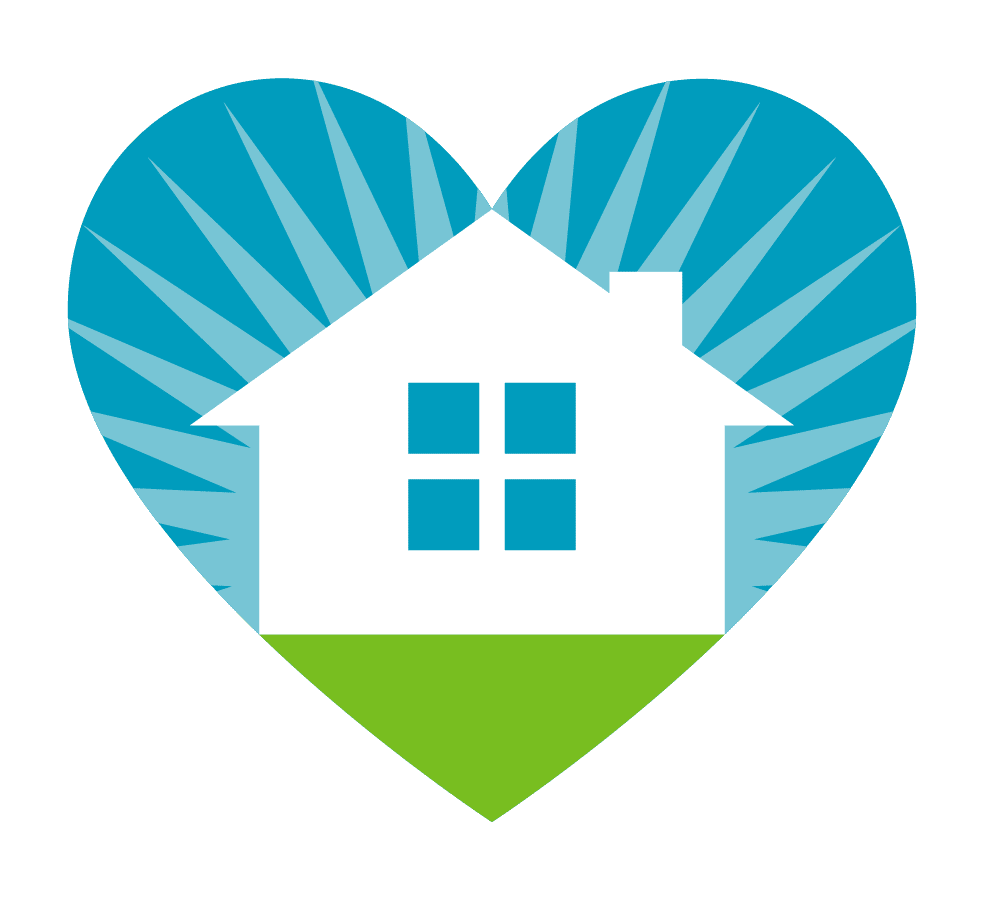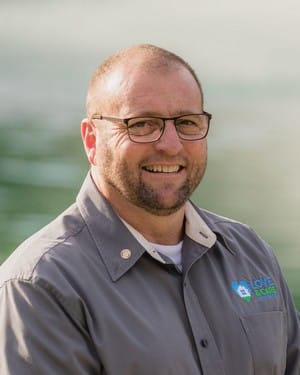 Timothy
Davidson
Tim Davidson has been working at Love and Care since before Day 1!! He is a third generation Sacramento native and graduated from all local schools, Kennedy High, Sacramento City College and Sac State with a B.S. in Business. He has been in home improvement since 2004 and carry an active general contractor's license with his company TSD Construction.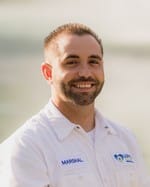 Marshal
Marshal, has been in the HVAC business since 2006. He is a second-generation HVAC technician and learned the trade shadowing his Dad at a young age. Marshal is am Military Veteran. His incredible craftsmanship and hard work today are a testament to the skills he gained serving our country. He has been EPA Universal certified since 2008, NATE certified since 2010.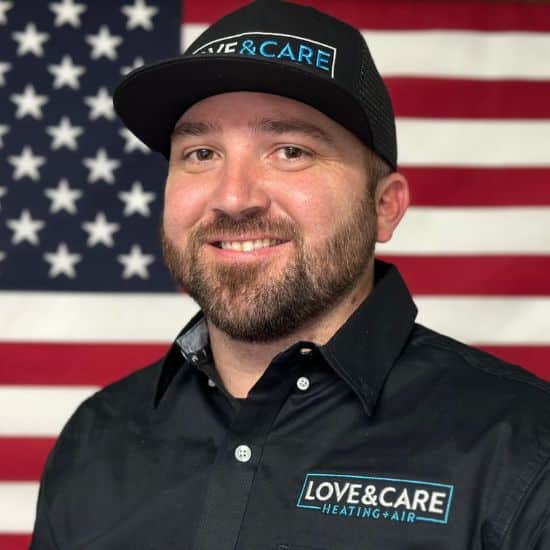 Derek
Derek is a carpenter's son, the trades and working with his hands come naturally. He has spent many years in construction (underground, plumbing, concrete, etc.) before finding a home in the HVAC industry in 2015. Derek finds satisfaction in diagnosing your HVAC problems, explaining the situation in a simplified way, while getting your HVAC system up and running.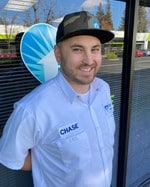 Chase
Chase has worked in several different construction trades. That breadth of experience has leant to his precision and workmanship in the HVAC industry. His HVAC career began in 2016 and eventually lead him to us in 2000. Chase brings technical ability as well as care and compassion for your safety and comfort.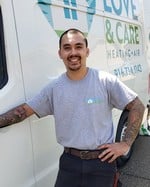 Jason
Apprentice Installation Technician II
Jason was born in Portugal where he lived for 8 years before moving to Sacramento. He has been working in the HVAC industry since 2019. One of Jason's favorite things about this industry is the appreciation he feels at the end of a job well done. He has goals to further his education in the HVAC trade.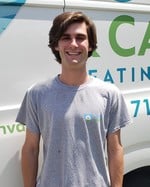 Zak
Apprentice Installation Technician
Zak grew up in Wilton, CA. He came to work for Love and Care in March of 2021 to apprentice as an HVAC installation tech. He has thrived in this tough but rewarding job. Since joining the Love and Care team Zak has excelled in every way. He brings a willingness to learn as well as a strong work ethic.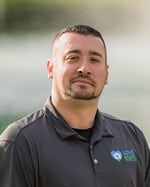 Mark
Shaw
Mark is the older brother to Love and Care's Founder, Christopher Shaw. After spending the last fourteen years with Comcast, he decided it was time to join the family business. At Comcast he played many roles ranging from cable tech, residential and business account management. He is a tradesman and enjoy honing his skills in woodwork, electrical, masonry and even as a locksmith.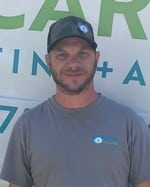 Mike
Mike was born in Tillamook, Oregon. He has been working as an HVAC installation technician since 2001 joining our team in 2021. He takes pride in his work and enjoys working with our customers to find solutions to their HVAC problems. Mike loves helping clients to be comfortable in their home again through his quality craftsmanship and compassionate service.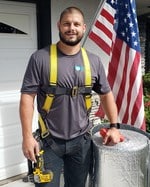 Gregory (Bubba)
Meet Gregory, AKA, Bubba. Bubba works for the California State Senate's security division as an X-Ray Technician. His job to make sure nothing gets into the Capitol that can do any harm. His work schedule and boundless energy allowed him to tap into his passion for construction and craftsmanship when joining the Love and Care Family.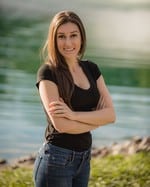 Hannah
Hannah started in the administration side of the HVAC business processing orders and other administrative work. Being a stickler for details, Hannah has been instrumental in helping our business grow while staying organized. Hannah recently helped us launch a new CRM software program, allowing us to server our customers through the longevity of their home.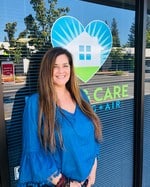 Kimberly
Kimberly came to Love and Care early in 2021. Over the years, her career journey has led her down a path of amazing learning opportunities. She is skilled in numbers: reports, projects, data collection, vendor management, relationship management and organization. We appreciate that Kimberly is a self-starter with a desire for a positive team environment.
ask about MILITARY AND VETERANS DISCOUNTS